After the NH reporter was captured, his publisher tried to free him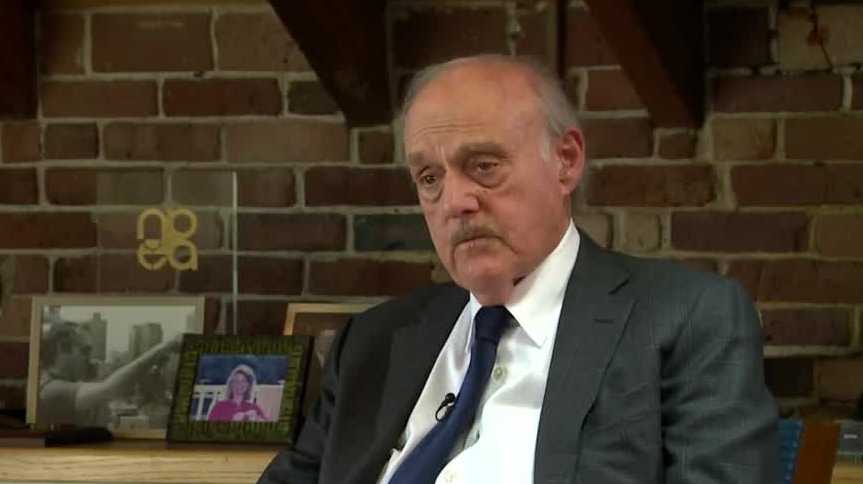 A year after freelance journalist James Foley was kidnapped from a cafe in Syria, the CEO and founder of GlobalPost has received an email from his captors. Foley was working for several outlets, including GlobalPost, when he was abducted. The first email from his captors was sent to Foley's brother Michael and GlobalPost CEO Phil Balboni. >> He's our friend and we don't want to hurt him," Balboni said as he read the email. It was November 2013, a year after Foley disappeared while working as a freelance video journalist covering the civil war in Syria. "'We have rules,'" Balboni continues from the email. "'You can never talk to the media about this, and if you do, we won't negotiate. We want the money, fast.'">> Timeline: Remembering James Foley's career, his murder, of his inheritance in the same situation before. In 2011, Foley was held hostage in Libya for 45 days and later released. He returned to Boston. "Here (there were) big hugs, you know, and we sat here in this office and talked about his future and what he would do," Balboni said. "He loved these people. He felt their pain and suffering, and that's what made him cringe." Balboni said he and Foley's family were able to confirm the emails had him captive. . "To demonstrate that they did in fact have Jim Foley, they allowed three questions that only Jim could answer." Balboni said the questions asked by the family related to details of events such as a wedding and a hockey game. The answers came back 100% correct," he said. "We knew for the first time that Jim was alive." But negotiations were almost impossible. "It was 100 million euros, which was about $120 million at the time," Balboni said. "Or they wanted some Muslim captives freed, which we knew the government wasn't going to do." "And I wish our government was more useful. They weren't," Balboni said. GlobalPost tried to locate Foley. "We searched," Balboni said. "We sent people to Syria to look for Jim. We had all kinds of sources. "Eventually a special forces rescue mission was launched, but it arrived too late. The hostages had been moved. The kidnappers then sent a final email." Jim Foley was going to pay the price," Balboni said. He said he feared the worst. "I was afraid it meant that. I was hoping it was a bluff," Balboni said. Balboni was sitting in his office when Foley's captors released a video of them beheading him. He called the Foleys to say how bad I felt. But it was done and Jim was brave." Balboni said he remains close to the Foleys, but he shares a different view on the death penalty for the killers, which James Foley's mother, Diane, said she opposes. "If it was me, I'd kill them," Balboni said, then, after a long pause, "Without hesitation."
BOSTON—
A year after freelance journalist James Foley was kidnapped from a cafe in Syria, the CEO and founder of GlobalPost has received an email from his captors.
Foley was working for several outlets, including GlobalPost, when he was abducted. The first email from his captors was sent to Foley's brother Michael and GlobalPost CEO Phil Balboni.
>> Special feature: James Foley – Life and Legacy
"And he says, 'Hello, we have James and we want to negotiate for him. He is safe. He's our friend and we don't want to hurt him,'" Balboni said as he read the email.
It was November 2013, a year after Foley disappeared while working as a freelance video journalist covering the civil war in Syria.
"'We have rules,'" Balboni continues from the email. "'You can never go to the media about this, and if you do, we won't negotiate. We want money, fast.'"
>> Timeline: remembering James Foley's career, his murder, his legacy
In some ways, Balboni had been in the same situation before. In 2011, Foley was held hostage in Libya for 45 days and later released. He returned to Boston.
"Here (there were) big hugs, you know, and we sat here in this office and talked about his future and what he would do," Balboni said. "He loved these people. He felt their pain and suffering, and that's what made him cringe."
Balboni said he and Foley's family were able to confirm the emails had him captive.
"They offered proof of life," he said. "To demonstrate that they did in fact have Jim Foley, they allowed three questions that only Jim could answer."
Balboni said the questions asked by the family related to details of events such as a wedding and a hockey game.
"The answers came back 100% correct," he said. "We knew for the first time that Jim was alive."
But negotiations were almost impossible.
"It was 100 million euros, which was around $120 million at the time," Balboni said. "Or they wanted some Muslim captives released, which we knew the government was not going to do."
He said the European hostages held with Foley had been released for ransom, but the United States was sticking to its policy of not negotiating with terrorists."
"And I wish our government had been more helpful. They weren't," Balboni said.
GlobalPost tried to locate Foley.
"We searched," Balboni said. "We sent people to Syria to look for Jim. We had all kinds of sources."
Eventually, a special forces rescue mission was launched, but it arrived too late. The hostages had been moved. The kidnappers then sent a final email.
"They rose up against the American government and they said Jim Foley was going to pay the price," Balboni said.
He said he feared the worst.
"I was afraid it meant that. I was hoping it was a bluff," Balboni said.
Balboni was sitting in his office when Foley's captors released a video of them beheading him.
"I clicked on the video and I had to see this," Balboni said. "I mean, I called the Foleys to say how bad I felt about it. But it was done, and Jim was brave."
Balboni said he remains close to the Foleys, but he shares a different view on the death penalty for the killers, which James Foley's mother, Diane, said she opposes.
"If it was me, I would kill them," Balboni said. And then, after a long pause, "Without hesitation."