Editorial: Another good week | Editor's Comment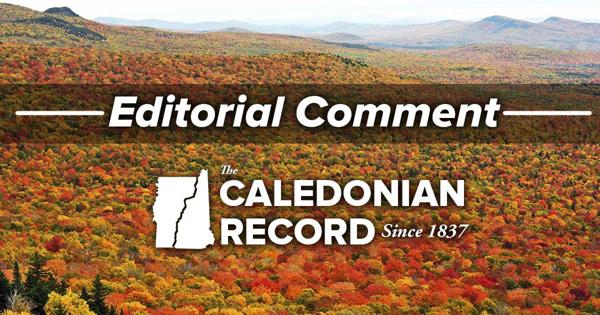 Over the past week, we have enjoyed reporting on the vast and varied accomplishments of local people improving our community.
The Caledonia County Food Co-op has announced its preference for Bay Street to house a possible 12,000 square foot grocery store owned by its members.
St. Johnsbury's maple products company, Cary & Main, is sponsoring the seven-man Jamaica rugby team that will compete in September's World Cup in South Africa.
The Rasputitsa cycling event returns to Burke and Newark this weekend.
The Danville Conservation Commission promotes "No Mow May" – an effort to let lawns bloom in bloom for just one month of the warm season to support native pollinator habitat.
Nearly 80 local 4-H members attended the annual Northeast Region 4-H Spring Showcase in Irasburg.
Sam Begin of St. Johnsbury Academy is one of six Vermont student-athletes to be honored by the Vermont Chapter of the National Football Foundation.
Emma Newland, Isabelle Priest, Kadienne Whitcomb, Ashleigh Simpson, Karli Blood, Jade Lamarre, Kyra Nelson, Zoe Crocker, Ava Marshia, Gabe Gardner, Colby LaFleur, David Piers, Kason Blood, Evan Dennis, Cam Roy, Ricky Fennimore, Jaden Thomson , James Cilwik, Bryon Noyes, Logan Currier, Charlie Schurman, Sabine Brueck, Delaney Rankin, Taylor Farnsworth, Kyara Rutledge, Keating Maurer, Maren Nitsche, Maggie Zschau, Katlyn Zheng, Cerra Challinor, Mary Fowler, Sofia Limoges, McKenna Bruchu, JP Perez, Robert Breault, Karter Deming, Brody LaBounty, Brayden Shallow, Tyler Hicks, Hannah Angell, Paige Currier, Evan Thornton-Sherman, Anna McIntyre, Mackenzie Griswold, Mackenzie Kingsbury, Sophia Shippee, Ellie Rice, Kolten Dowse, Tyson Davison, Dan des Groseilliers, Lyle Rooney, Jadon Baker, Ashleigh Simpson, Brydie Barton, Molly Smith, Karli Blood, Maggie Emerson, Austin Wheeler, Trevor Lussier, Luke Dudas, Wyatt Mason, Cameron Dennis, John Dennis, Cam Berry, Rex Hauser, Will Fowler , Luke McCor mac k, Tyler Holm, Owen Murray, Grady Millen, Bode Belyea, Dillon Brigham, John Morgan, Joe Schlesinger, Kaia Anderson, Adriana Lemieux, Brooke Choiniere, Avery Tomczyk, Clara Andre,
have all been named Daily Top Performers by our sports team.
The St. Johnsbury School Theater Department presents its spring musical, "Annie Jr." this weekend at the school auditorium.
StJ Art on the Street opened its spring exhibition, showcasing the work of several Vermont artists in storefronts, sidewalks and indoor galleries along Railroad Street and Eastern Avenue.
Some major upgrades are underway at the Kiwanis Pool in St. Johnsbury as the community organization prepares for the upcoming swim season.
The founders of a new Christian academy in Littleton said the school's 2021-2022 pilot year was better than expected after more parents quickly showed interest.
The J. Warren & Lois McClure Foundation has announced the 'Free Early College Program Graduation Pledge at CCV' for Vermont students in high school classes of 2022-2026.
PoemTown St. Johnsbury will celebrate the last day of National Poetry Month today with a special event at Catamount ArtPort. Singer/songwriter and Levitt AMP St. Johnsbury favorite, Myra Flynn will join poet/jazz scholar and former VPR host, Reuben Jackson for an evening of live music and poetry.
The Burklyn Summer Arts Fair has announced that the annual celebration of the arts will take place rain or shine this summer.
The Weathervane Theater is holding open auditions tomorrow for its upcoming 57th season.
The Colonial Theater opens its 2022 season next week with a live performance of Letters from Iraq, by virtuoso oud player and composer Rahim AlHaj.
The Ammonoosuc Conservation Trust is hosting its first Foss Forest Storytime tomorrow with Becky Hatfield, St. Johnsbury Athenaeum Children's Librarian and ACT volunteer, for some fun trailside reading.
Jackson David Thompson, Ethan James Harvey and Phoenix James Aubin were born.
St. Johnsbury Academy is hosting a free Hispanic Festival on campus next week.
Natural Provisions in St. Johnsbury donated $1,000 to the St. Johnsbury Food Shelf.
Cabot School students led a respectful, school-wide discussion of the Black Lives Matter and Pride flags on school grounds in a bid to fly them for another year.
Former Academy player and University of New Haven junior outfielder Tyler Wells was named Northeast-10 Baseball Player of the Week.
Led by the Caledonia Trail Collaborative, construction of a new bike path is underway in the St. Johnsbury Municipal Forest.
Dr. Gladys Carrasco has joined Northern Counties Health Care to provide pediatric dental services in Orleans County.
The Littleton Industrial Development Corp. plans another expansion of the industrial park.
Bill Whelan spurs growth of bike paths in Franconia with trail adoption program.
AJS's Keating Maurer and LI's Austin Wheeler were voted Athletes of the Week by readers and local sports fans. Jaden Thomson, Mike Hogan, Grady Millen, Logan Currier, Ann McIntyre, Jaydin Royer, Paige Currier and Lillian Kittredge were also nominated.
The Benefit Dance Recital returns to the Lyndon Institute this weekend to support the Cobleigh Library.
Efforts are underway to revive a senior center in Gilman.
A group of locals have started a new non-profit organization – Northeast Kingdom Cancer Action Network – to help those in financial need while battling cancer.
The Housing Ready program will support the development of housing for low- and middle-income people in the north of the country.
The Inkwell Coffee and Tea House is expanding in Littleton.
The Colebrook Kiwanis Club is hosting a fun interactive four-mile zombie race later this month.
White Mountains Regional High School's Information Systems Technology class learns to empower their heated greenhouse.
Greg Eastman and Stephen Ellis have been confirmed by the New Hampshire Executive Council for a third three-year term on the New Hampshire Community College System Board of Trustees.
Barnet officials are closing in on a fit-out for their long-awaited office project.
The NEK Harvest Hub extends to the Lyndon Farmers Market.
Six local 4-H'ers (Luke McReynolds, Colton Masure, Uma Chirkova, Andy McReynolds, Haley Michaud, Taylor Tetreault, Colby Butlerwill) will be competing this summer at the National 4-H Shooting Championships in Grand Island, Neb.
Chris Towne of Northern Counties Health Care won the Vermont Hunt Blair Leadership Award from the Bi-State Primary Care Association.
The Vermont Philharmonic returns to the stage with a local concert tonight at the Highland Center for the Arts in Greensboro.
We congratulate and thank them all…both for their efforts and for allowing us to share their great news.