From the publisher: Pilot Ends '21 With Momentum | News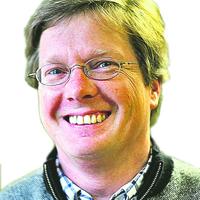 Over the years, the editor has asked me to write to you in the first issue of the year to give an update on the journal's activities. I always suspected he was looking to fill space in a notoriously slow news week. Still, I'm flattered he asked. So this is it.
What a difference a year makes. In the spring of 2020, the pandemic forced several of our largest customers to close their doors for 60 days and lay off several of their employees. At the same time, like many businesses across the Sandhills, your newspaper accounting workers rushed to the post office every day to see how many customers had paid their bills.
Fortunately, almost all of them did. But, it was a tough white punch for a few months.
In the midst of all this economic chaos, your publishing house has decided to set itself the goal of emerging from the pandemic in better conditions than when we entered it.
For every metric – from revenue and cash flow to traffic and ad volume – I'm thrilled to report that your publishing business has achieved that goal.
To achieve this, we have adopted the Roman adage: "fortune smiles on the daring". Your capable team here on West Pennsylvania Avenue didn't just sit back and let the crisis pass. We play offensive. It is important to note that most of the publishing industry does the exact opposite.
To that end, we acquired Walter magazine from The (Raleigh) News & Observer last November as well as the Seven Lakes Insider last spring from a local contractor. In the coming weeks, we plan to launch two digital radio stations as well as a statewide politics and public policy newsletter.
By purchasing Raleigh's largest and most important magazine, we now publish the leading magazines in North Carolina's three largest cities. We are well placed to develop our print and digital operations around these publications.
Our goal for 2022 is to leverage our growing influence statewide, which will serve to make your local newspaper all the more stable. Few communities across North Carolina can boast of this fact.
Another goal for next year is to make the 2022 US Women's Open, to be held in Pine Needles in early June, one of the most successful championships to date. We plan to dedicate all of our editorial resources to coverage of the Women's Open. We have worked closely with the United States Golf Association and our printing partners over the past two months to iron out all the details.
We are therefore in a much stronger market position than a year ago. This didn't happen by accident. Your loyal and dedicated staff sweated a lot of detail to achieve these results. They did it because they believe in our mission to serve this special community. This sense of purpose shows in their work and I couldn't be more proud of them for it.
Thanks to the efforts of your newspaper team, The Pilot and its operations in Moore County are far more relevant today than they were just a year ago. And, in this media environment, relevance is the currency of the kingdom.
For example, one of your newsletters, The Sway, grew 13% to just over 17,000 subscribers. Revenues from this business sector are also up significantly. The bi-weekly newsletter targets Moore County millennials and has an average open rate of around 40%. In its own right, The Sway is one of the biggest outlets in the Sandhills.
Earlier this year, The Pilot's news and publicity teams won more than 40 awards in the NC Press Association's annual awards competition, including first prize for overall excellence in its division.
The Overall Achievement Award marks the second year in a row that The Pilot has won this prestigious honour. We also won the top prize in 2017 and 2010. The driver placed third in this category in 2019 and 2015.
The awards honored work published in the newspaper as well as The Pilot's newsletter suite and PineStraw, your popular monthly arts and culture magazine. We have won over 16 news and editorial awards and 24 advertising awards. Of that total, Pilot staff received four first-place awards for news and nine for publicity work.
In the National Newspaper Association's 2021 Better Newspaper competition, The Pilot won eight awards, including first place in local news coverage and third place for overall excellence. "A well-made newspaper provides comprehensive coverage of the community," the judges wrote. "That screams local coverage."
Our commitment to covering community news also continues to pay off in your digital initiatives. Since 2020 is such an outlier for digital news, we looked at how 2021 performed in the first three quarters compared to the same period as 2019, the last "normal" year.
What we've seen in this comparison are much higher numbers in 2021 for sessions, users, and pageviews compared to two years ago. And we continue to reach new audiences, with new user sessions up more than 23%.
Last summer, The Pilot implemented a "dynamic paywall" on its website, which, through the magic of algorithms, can determine whether someone is a regular consumer of the website or just an occasional visitor. Regular readers hit the paywall immediately, while occasional visitors get a free pass for a few days. The paywall and daily newsletter, The Pilot's Briefing, which has 22,000 subscribers and an open rate of approximately 40%, have been key elements of our digital subscription sales strategy.
When the pandemic started, we had about 100 digital-only subscribers paying for unlimited access to our website. We have set ourselves the goal of selling 1,000 digital-only subscriptions in one year. With one day to spare, we reached our goal. Reader revenue has always been important to us, as we have 9,000 print media subscribers. But, adding to our digital rolls gives us a lot more flexibility.
PineStraw, your heavy and wholesome glossy paper, posted another strong year telling the stories of the community. The award-winning magazine enjoys a monthly circulation of 15,000 copies and provides us with another medium to serve the Sandhills.
Eleven years ago we acquired The Country Bookshop with the aim of restoring it to its former glory. This year, the bookstore achieved that goal – and more.
Your bookstore hosted — both virtually and in person — 34 New York Times bestselling authors, three international bestsellers, the National Book Award winner, and the Library of Congress' National Ambassador for Children's Literature.
I can't think of any relatively rural community in America that has been home to famous authors John Grisham, James Patterson and Lin Manuel Miranda as well as Jeff Kinney, Wiley Cash and Jason Mott. Thanks to your purchases and your support, you have created the "little shop that could".
The thriving bookstore represents the rich cultural mosaic of the Sandhills. It thrives because readers like you see it as more than just a selling point. You see it as it should be: the cultural center of our community.
This year, the staff plans to launch a podcast called "Books in the Country." It will be featured on all of our publishing company's digital products, but especially on our streaming radio stations.
We've flirted with buying local radio stations over the years, but we just couldn't find the right location at the right price to make an acquisition. Thus, our desire to offer our readers and advertisers audio offers has not been satisfied. Until now.
We have created an all-digital radio that will reside on thepilot.com as well as its own website www.pilot-radio.com and smartphone apps available from Apple and Google stores.
We have created a music genre called "Golf Rock" which will make up the bulk of the station's content. We plan to launch a second channel called Golf Rock Radio (www.golfrock.com) which will not be as Moore County focused in a few months. We will be able to promote and sell digital audio products through our Raleigh, Greensboro and Charlotte magazine titles.
Podcasts, which are a growing medium, will be a crucial part of our website, app, and streaming service. Telling the stories of our community in audio form will allow us to engage with our audience in a more intimate way than just text on a page or screen.
Digital radio is a fun product that has captured the imagination of your staff and will help promote our company as a hotbed of innovation and entrepreneurship.
As you can see, your publishing business continues to perform well and is well positioned to thrive for many years to come. Thank you for trusting The Pilot and allowing us to do what we love – bringing you the news from this special place.
David Woronoff has been editor of The Pilot since 1996.