Local publisher goes all-in with first faith-based magazine in St. Louis | Company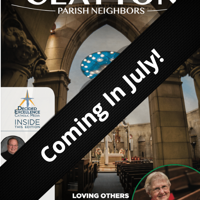 THE LOCAL PUBLISHER GOES "ALL-IN" WITH A FOI MAGAZINE
Clayton Parish Neighbors is the first of its kind in St. Louis
St. Louis, Missouri, July 1, 2022 – St. Louis local Chris Heeb launched the first denominational Catholic magazine to be hand-delivered to thousands of families in the St. Louis Central Corridor of Clayton, Ladue, Richmond Heights and Frontenac.
The mission of this monthly publication is to inspire families to reconnect with their faith and become more involved in their church and local community.
Clayton Parish Neighbors shines a light on local families and their religious journeys, educates readers on Catholic traditions, and provides articles from nationally syndicated writers such as Bishop Barron and Scott Hahn.
Local businesses sponsor this magazine and have access to thousands of families who read, preserve and share Clayton Parish Neighbors with family and friends.
This local magazine strengthens our community by shining the spotlight on neighbors and celebrating their contribution to the community. Our business sponsors are integrated into this local network of faith-based owners and enjoy the benefits of having a trusted brand.
To learn more about how to become a business sponsor in this magazine, feel free to read more at www.ClaytonParishNeighbors.com or call Chris Heeb, editor, at (314) 265-2117.