Misinformation, Midterms and the Mind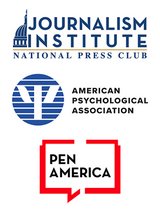 September 29 webinar:
Staff | Press Club National Institute of Journalism
Journalism and democracy have been turned upside down by the growth of misinformation and disinformation. Countering it effectively requires understanding why people are sensitive, targeted, and how they can become more resilient. Psychological research can teach journalists how to presuppose misinformation and convey credibility in a way that readers, viewers and listeners can process, which is more essential than ever as the November election approaches.
Register now for "Disinformation, Midterms, and the Mind: How Psychological Science Can Help Journalists Combat Election Disinformation." This program of the National Press Club Journalism Institute, the American Psychological Association and PEN America will take place on Thursday, September 29 at 11:30 a.m. ET on Zoom.
Learn how misinformation and disinformation impact journalists and newsrooms, including findings from a recent PEN America Surveyplus the latest scientific research from the nation's leading psychologists on how to incorporate proven prebunking and inoculation methods into your reporting.
Panelists include:
Voter Accessibility: Improving Your Election Coverage for People with Disabilities
More than 61 million Americans live with a disability, yet they remain underrepresented in the journalism produced by American newsrooms. As a decisive midterm election approaches, recent coverage shows that state and local measures aim to: reduce mail-in voting, limit access to polling places and limit information explaining how people with disabilities can vote.
Are you ready to be a watchdog for voters with disabilities in your communities? What does your newsroom do to ensure that your election coverage is useful and accessible to voters with disabilities? How do you cover voter rights and accessibility before and on election day?
Register now for "Voter Accessibility: Improving Your Election Coverage for People with Disabilities," which will take place on Friday, October 14 at 11:30 a.m. ET on Zoom. Learn about best practices for covering voters with disabilities and highlighting voting access issues they may face.
Panelists include: