Rick Schonely retires as a sports journalist in Kaunakakai, Hawaii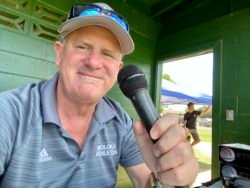 Press release | Dispatch from Molokai
After seven years of sports coverage in The Molokai Dispatch (Kaunakakai, Hawaii), Rick Schonely has said he will step down from the sportscasting role.
In 2015, after retiring from the Maui Fire Department, Schonely began contributing to The Molokai Dispatch's sports coverage, whether it was taking photos, writing stories, sharing his "reports athletes" on Facebook, to send scores or to keep in touch with former athletes. We appreciate his dedication to the student-athletes of Molokai and ensure that their accomplishments are celebrated in the newspaper.
Schonely said he will take more time to play golf and spend with his 'ohana, but will stay close to sports at Molokai High.
"It has been an honor and a privilege to be the sports reporter for The Molokai Dispatch. Molokai Athletics has been close to my heart for over 38 years and I will be starting my 39th year as a substitute teacher at Molokai High School and I am still involved in athletics," Schonely said. "I will continue to cover high school athletics via social media and photograph student-athletes and share photos with everyone. Thank you to everyone who enjoyed my sports reporting for the past few years. I appreciate all of you who have come up to me and told me how much you enjoy sports coverage.
We know our readers will miss Schonley's high school sports reports. The Molokai Dispatch operates with a small staff that includes only one editor/reporter. We plan to continue to cover the remarkable achievements of our athletes, but we do not have the capacity to do so comprehensively. Are you interested in sports, writing and photography? Join our team as a freelance sports journalist. Payment is available per story. Please contact [email protected] with interest.