The 2022 mega-conference ends in Orlando
Gretchen A. Peck | for editor and editor
If you've been in the news publishing business for more than a few years, it's not hard to remember the relatively recent era when austerity reigned supreme. The belts still needed to be tightened. Finding ways to be lighter and reduce costs was paramount. The number of journalists in newsrooms across the country has been reduced to fractions. Publishers have played with print frequency. Local news outlets have been consolidated or worse.
Dean Ridings, CEO of America's Newspapers, presented the sessions for the second day of the conference. (Photo by Gretchen A. Peck)
As with any bottom-line business, news organizations continue to look for ways to operate more efficiently while controlling costs. That hasn't changed, per se. Yet austerity seemed the farthest thing from the minds of news media executives who gathered in Orlando for the 2022 mega-conference. What they shared, generally and collectively, was a desire to do things differently – to creatively find new audiences and new sources of funding; harness video and audio for the benefit of both storytelling and revenue; leverage technology tools and data to meet, attract and retain new subscribers; and to change the very culture of their organizations, by choosing suction on austerity and optimism on fear.
You can read more about the first day of the conference here.
Mike Blinder, Editor and Publisher, led a lively and hands-on panel on podcasting and vodcasting, encouraging everyone in the room to invest in technology and talent to leverage digital audio and video. 'in a way that meaningfully engages news audiences, supports editorial mission and brand, and generates new revenue to boot, with seemingly limitless advertising and sponsorship potential.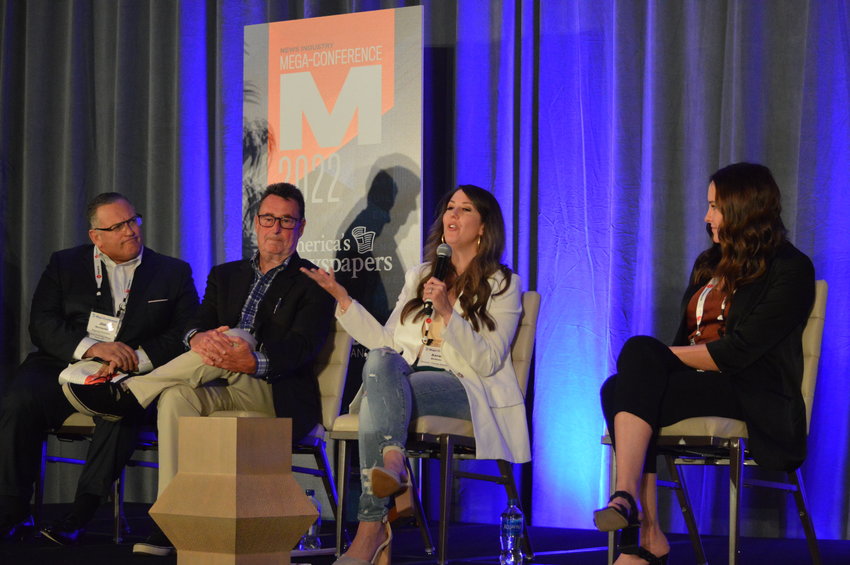 Jim Normandin, regional vice president, Adams Publishing Group; Mark Cohen, Regional President, Adams Publishing Group; Sarah Belleau, Director, Partner Growth, Frequency; and Lindsay Dotterer, Director, Business Development, AffinityX, spoke about the reach, appeal and effectiveness of video marketing. (Photo by Gretchen A. Peck)
Adams Publishing Group executives moderated a panel on video, exploring its virtues for storytelling and tapping into new revenue streams through consultative selling and strategic partnerships – for example, placing branded digital screens in partner locations for the distribution of video content. However, the key to seizing these opportunities is to make the process of selling videos simple and accessible – and fun – for the sales team.
Aaron Kotarek, senior vice president, audience and operations at Oahu Publications, Inc., flew in from Hawaii to join Blinder's panel and moderate a subsequent session. During the podcasting session, he shared how his company developed eight podcasts and grew that part of the business to now include live broadcasts. he reported that some of the shows are already celebrating their fourth season and immense popularity, generating between $80,000 and over $100,000 per season.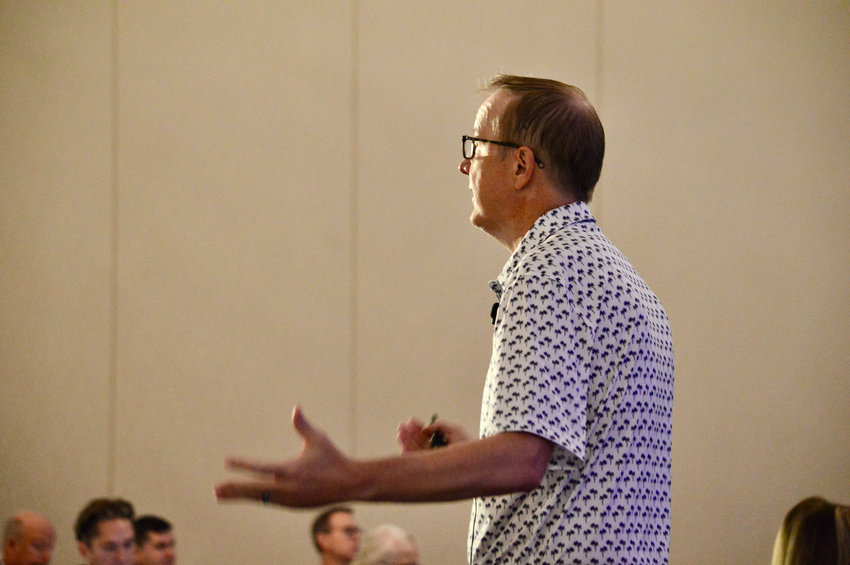 Aaron Kotarek, Senior Vice President, Audience and Operations, Oahu Publications, Inc., moderated a session on what it means to become an alternative media company. He walked through the crowd and spoke candidly about the future of print, compensation models and corporate culture. (Photo by Gretchen A. Peck)
Kotarek left the riser for his subsequent session, "Becoming a Non-Traditional Media Company," addressing attendees more intimately, challenging them to think differently about corporate culture and the "long tail" of the industry. printed.
He is still bullish on the impression and noted that it makes money and for a certain percentage of subscribers it is their preference. "If you refer to print, you're throwing the baby out with the bathwater," he said.
Kotarek challenged the steep discounts that news publishers have put in place as a strategy to grow digital audiences, effectively devaluing their digital content and creating a conversion chasm that can be difficult to cross – for example, asking a subscriber who paid $1/month as an introductory rate to then pay $36/month. Instead, offer micropayments, he advised, and work with a salesperson to eliminate credit card processing fees. His company did and saved $1.2 million.
Kotarek also encouraged his peers: "Be curious. Be unusual.
The afternoon of the second day of the conference began with panel discussions on important topics, such as media advocacy, print and digital revenue, public notices, political advertising and philanthropy.
Judi Terzotis, president and publisher of The Times-Picayune, The Advocate, The Acadiana Advocate and NOLA.com, opened the conference's penultimate session, "Gaming – Big Gamble or New Business Model?" pumping up the crowd with a question: "Who wants to make money?"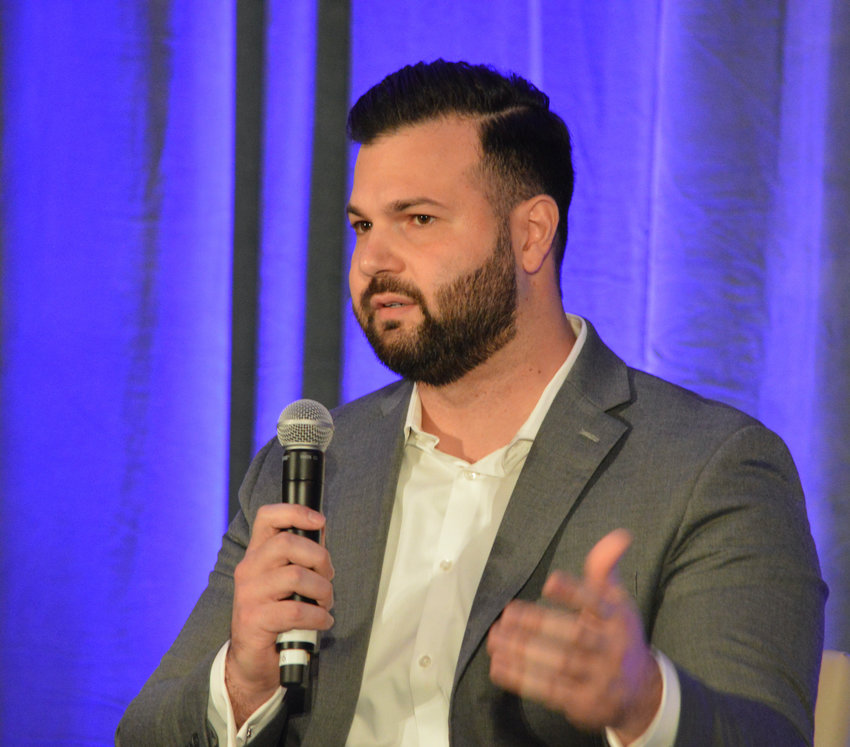 Vincent Santorelli, Director of Affiliate Marketing, Caesars Sportsbook, spoke about his company's partnership with BET.NOLA.com, a brand new venture capitalizing on legal online sports betting in Louisiana. (Photo by Gretchen A. Peck)
The previous afternoon, the Terzotis team received the 2022 Mega-Innovation Award for their impressive three-month initiative to create a brand new business based on legal online gambling in Louisiana: BET.NOLA.com. Learn more about their accomplishments here.
Robert Young, vice president, digital solutions, NOLA.com said other digital information companies in states where online gambling is now legal — or soon will be — can replicate their model. "I think it's important to say, right off the bat, you can scale this up, right? What we have done is not the only way. They partnered with Vegas-based Caesars Sportsbook for this initiative; Affiliate Marketing Director Vincent Santorelli flew in from Las Vegas to join Terzotis and Young for the presentation.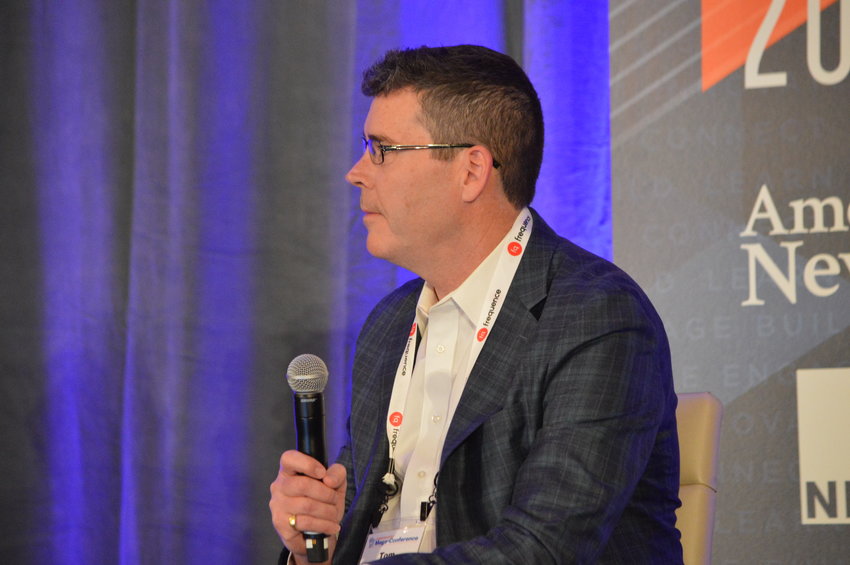 Tom Shaw, VP and Chief Product Officer, Shaw Media (pictured), joined Alisha Owens, VP, Sales, The Advocate/NOLA.com, and Brandon Eyerly, Publisher, Press Enterprise, for the final session of the Mega – Conference in Orlando. It was a lively and productive session that explored a range of topics, from remote working to recruiting and retaining employees, and changing the culture of an organization to be more collaborative, innovative and supportive. (Photo by Gretchen A. Peck)
Alisha Owens, vice president, sales, The Advocate/NOLA.com; Brandon Eyerly, Publisher, Press Enterprise, Inc., and Tom Shaw, Vice President and Chief Product Officer, Shaw Media, took the stage for the final session of the mega-conference, "Where Do We Go from Here?" They shared their own experiences navigating the pandemic and working remotely. They asked members of the public to share their thoughts on returning to the office, productivity, employee morale and benefits, and how to attract and retain talented people. Ideas and suggestions came as a source from attendees, who came up with ideas like helping employees repay their tuition fees to ease some of their financial burden at this time; provide mental health services; create internship programs that not only benefit both parties in the present, but also create a talent pool in the organization.
One audience member suggested that his peers consider following his company's lead by offering employees unlimited paid time off. It removes what now looks like an outdated practice of counting personal, sick or vacation days. "Are you afraid of it? Because there is nothing to fear. Employees will love and respect you," he assured them. "The fear is that you are going to have an empty building, but the reality is the opposite."
It may surprise some that a ballroom full of publishing executives is so deeply attuned to the challenges of their employees, their professional development needs, and the recruitment and retention of talented people, but it was the spirit of this year's mega-conference: Create a culture of respect, support, collaboration and bold initiative.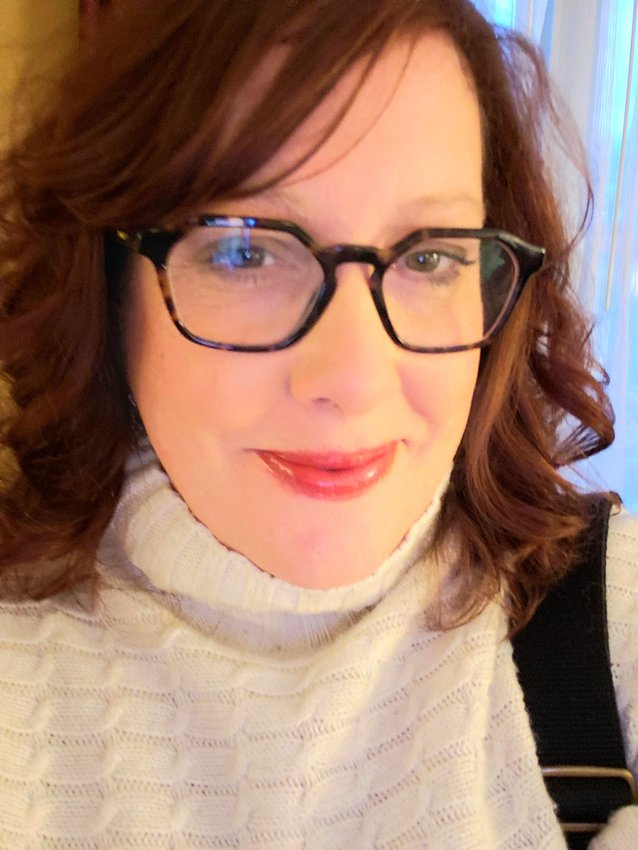 Gretchen A. Peck is editor-in-chief of Editor & Publisher. She has been reporting for E&P since 2010 and welcomes comments on [email protected].