We salute you! | Editor and publisher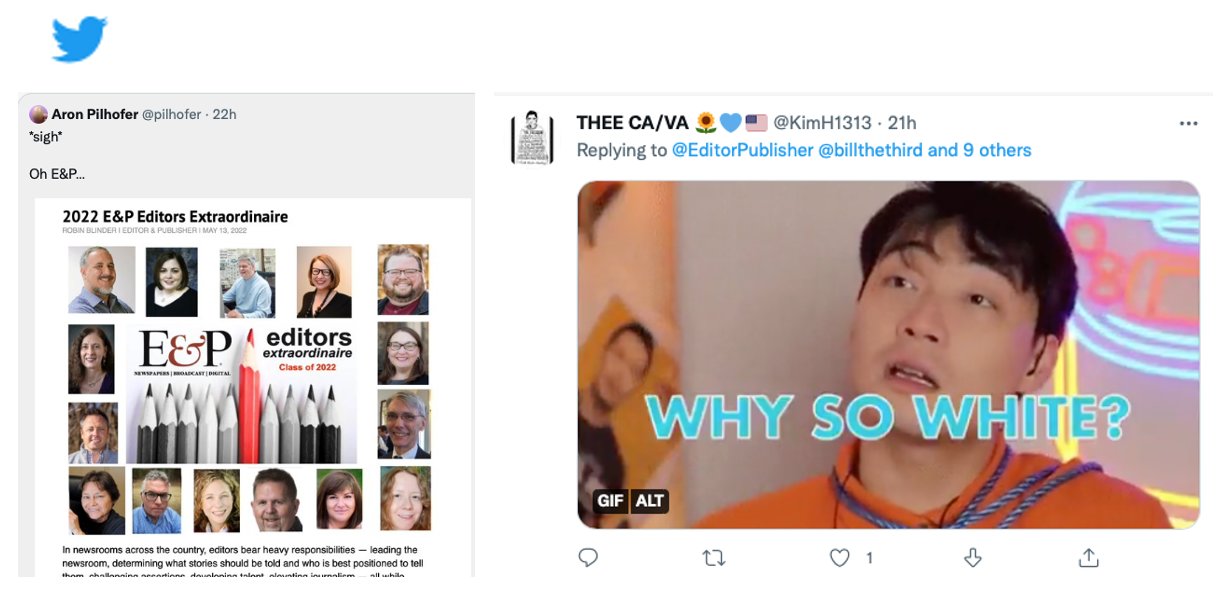 Robin Blinder | Editor and publisher
What a spring it has been, and last week just capped it off in a very trying but educational way. If you're on social media — but especially in the Twitter sphere — you've seen this editor and publisher, as my husband would say, "backed into the stove." And that hurts ! I've never been very active on social media. I believe it has its place, but as someone recently reminded me, "it's not the real world". This experience did not change my mind.
Friday, May 13e(yes, Friday the 13the), my husband and co-editor, Mike, posted our article "Editor and Editor 2022 Class of Editors Extraordinary" on our 7 a.m. email and on social media. Before that, he created a montage of the 15 faces of editors – seven men and eight women – who had been chosen for this salute. And that started the Twitter cavalcade.

If you've read E&P over the past year, you know we've "uped our game" by acknowledging those in our industry. We have Editor of the Year, Sales Superstars, 15 Over 50, 25 Under 35, … well, you get the picture. The reason we decided to increase industry salutations was to 1) create an opportunity to recognize more individuals and teams for their contributions to the industry, and 2) through their recognition and accomplishments, educate and inspire others who aspire to become all they can.
I had searched through our archives and realized that, until 2010, we had an editor (or editors) of the year. In our May issue, we decided to salute editors because, as we said, we wanted to "discover and recognize the leaders of our newsrooms whose names may not always be as familiar as those journalists, but who continue to strive to improve our storytelling, to be an ambitious mentor, stand firm in the face of adversity, and continue to remain committed to the pursuit of truth and accuracy.
If you have been saluted, nominated someone for one of our salutes, or even read one of our salutes, you know that we are holding a nomination process for approximately three weeks. During this time, we invite everyone to go to our web page and nominate a person (or sometimes a company or a team). These nominations then populate a spreadsheet from which we make the choices internally. The decision is based on the nomination itself – what was written, the strength of the story, the achievements listed, etc.
After we have made our selections, the "nominator" and the "salutee" are informed by e-mail of our decision. At that time, I will email the winner asking them to answer a few questions and submit a photo (and sometimes more photos). That's when I learn gender (often names can be mixed), race, etc. of the winner. And this is where this story takes a turn.
About a week after making our selections, I received everything via email and realized that our Salute to Extraordinary Writers lacked diversity. In fact, our list of 15 publishers was all white. At that time, I had a decision to make. Do I "put our hands on the scales", delay the salute and go in search of more diverse candidates, or do I continue the salute and honor both those who have been appointed and their colleagues and the management who appointed them? I chose the second option, knowing full well that it was not a good situation.
It was the 15 editors' photo montage that sparked debate on Twitter and via email, phone calls, and more. For most of that time, I remained silent. Mike, our editor and my husband, posted an article titled "A 'Wake Up'," explaining the situation and apologizing for not casting a wider net.

Truth be told, when we went back and looked at all the editorial nominations, we hadn't received any nominations for people of color. It's a problem, and unfortunately it's also often a problem in our industry. Having attended many conferences over the past few months, I am often surprised at the lack of diversity in our industry.
At E&P, we have made efforts to diversify our coverage over the past year. We pledge to do all we can to correct this issue in our greetings – casting a wider net and asking those who have the ability and opportunity to nominate people of color they work with. However, the greetings will live. We believe they have a place in our industry and in our magazine. They will not be judged by a larger group as that is the purpose of our EPPY Awards. Pulitzer Prizes, EPPY Awards, our E&P Salutes and all other recognition opportunities have their place in our industry.
I was asked why our list of editors didn't include Miami Herald editor Monica Richardson, a black editor whose team won the recent Pulitzer Prize for Breaking News. I have two answers to this. One, although she is more than qualified, no one has appointed her for our salvation. Second, Ms. Richardson receives great recognition from the Pulitzer Committee. We don't say the people we recognize are the best in the business. This is not a contest. E&P salutes are just that – a nominated salute that recognizes some of the people in our industry who may never be part of a Pulitzer Prize-winning mission or team. But their contributions deserve recognition. They are equally important to their local communities.
I'm so sorry that our group of 15 editors doesn't include anyone of color. However, I'm equally sorry that the 15 people we chose – each deserving of recognition and appreciation – had their 15 minutes marred by the social media backlash. I know each of them has been contacted (probably more than once) and asked to rescind their nomination. We gave each of them that opportunity – not because we thought they had to, but because we thought they could and should make that decision for themselves. I'm always proud to honor and recognize each person on the Amazing Writers List because you all deserve it.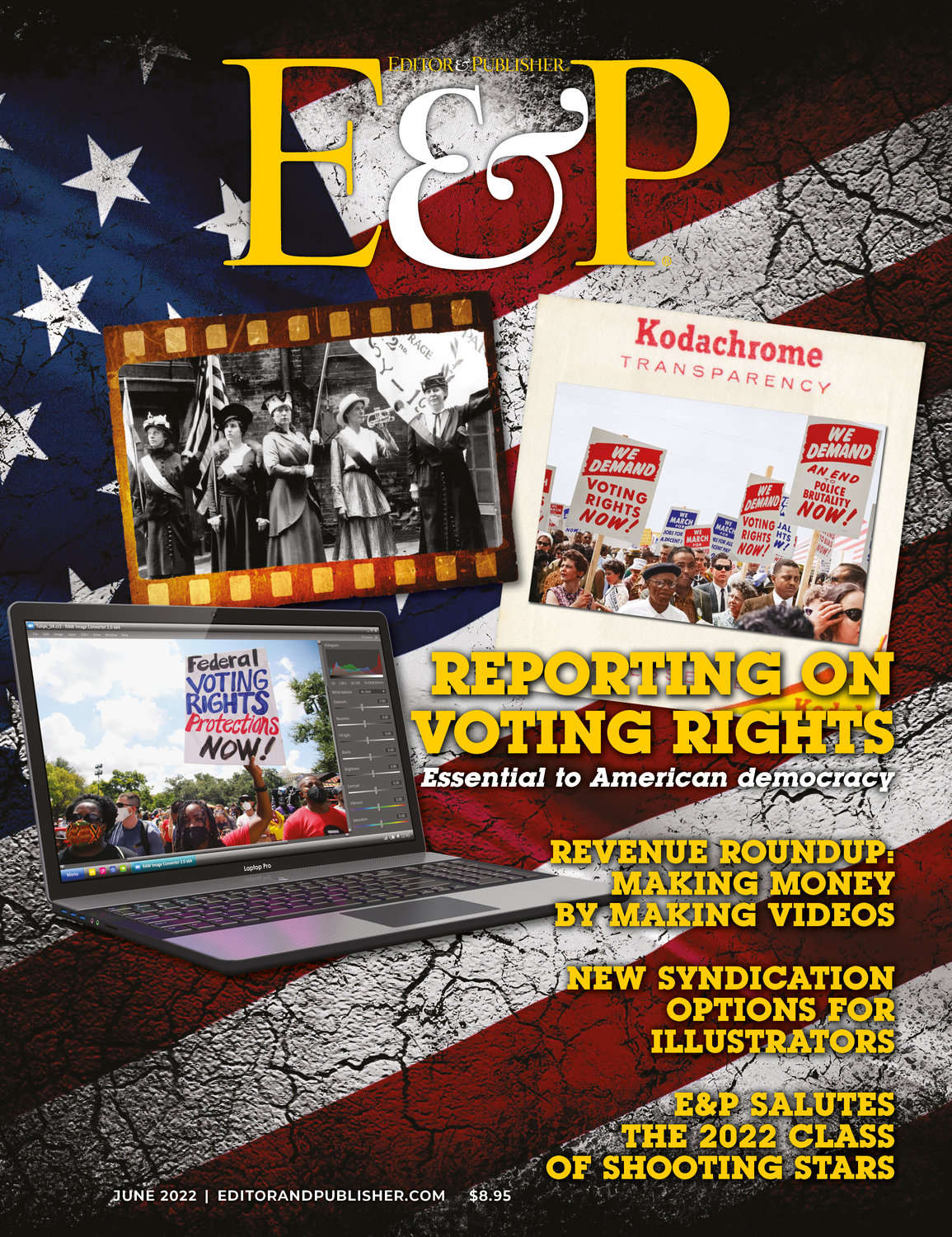 The June issue of E&P contains another salute – E&P's 2022 Shooting Stars, the photojournalists who tell our stories through photos and video. This list is slightly more diverse, but we're not there yet. We will continue to expand our network, seek to include more people of color, and work with organizations such as The Diversity Pledge Institute, which partners with us in our Diversity Spotlight column and our vertical diversity on our website. I welcome all of you who care about diversity in our industry to help us be better. No amount of effort will ever be enough, in my opinion, but we must continue to fight together and move forward.
As always, I await your comments. We cannot do this without your help.
Robin Blinder is E&P's associate editor and vice president of content. She has worked at E&P for two years. She can be contacted at [email protected]